Kerry's Homepage
Lycra delights and other fetishes

Some background
Kerry is a straight, male crossdresser who loves to wear lycra, heels, wigs, and latex. She is 34, lives near Seattle, and can be frequently spotted at local science fiction conventions wearing the costumes she sews herself. Her other interests include movies, British media (especially comedies), and computers.
The picture on the right is of Spiderwoman, a character who appeared in Marvel comics during the 1970s. Kerry wore this in the Masquerade at Dreamcon 10 in October 1995 and won an honorable mention for workmanship.
She'll be wearing this on Halloween this year as well.
The costume on the left is a basic black catsuit with four-inch platform high-heeled boots. A really great angle here makes Kerry look a lot thinner than she really is (size 10).
Kerry welcomes hearing from any lycra fans (transgendered or straight) or anyone in the Seattle area who shares her interests (or demographics). You can write her by clicking here.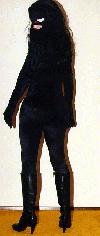 Please come back in February 1996 when Kerry will back with more photos and new outfits. Meanwhile, check out some of these transgendered links.
---
Links
Newsgroups
---
Written and maintained by Kerry. Comments and suggestions to KerryJTV@aol.com

January 3, 1996