Kerry's TV Mask/Lycra Page
Kerry's background
I am a straight, male crossdresser who loves to make and wear lycra costumes along with high heels, wigs, and latex masks which I make myself. I am over 50, married, live in Seattle, and can frequently be spotted at local science fiction conventions wearing some of the creations you see here. My other interests include movies, British TV (especially comedies), science fiction, and computers. I am 5'6", 147 pounds, dress size 10, and women's shoe size 12 (though it's a tight squeeze).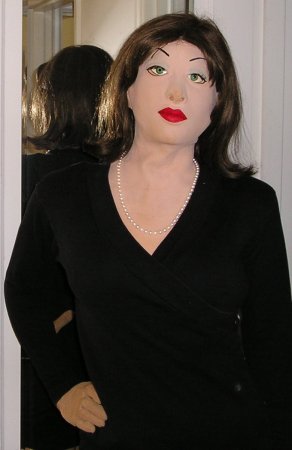 What's Next?
I continue to sell a wide variety of masks. Visit my Masks By Kerry page to view the selection available.
I am interested in making a masked-themed movie or documentary. Interested in helping? (and close to Seattle?) Drop me a line. Meanwhile, check out my YouTube videos.
MEET KERRY
I don't currently have any plans to attend any events. When I do, I'll post here a list of where I will be at the following science fiction conventions & events in coming months. If you see me in costume, feel free to come up and say hi.
---



Written and maintained by Kerry (KerryJTV@aol.com).
May 28, 2008