Kerry's Features
Don't miss any of the special features pages I have done
2007


Night at the Museum (of Sex)
. Photos of me at the New York opening in February of an exhibit featuring my bodysuit.
2006

San Francisco Fetish Ball. Photos from my outting in San Francisco in my new latex Maskara outfit.

Making Maskara. Detailed description of the development of this all-latex bodysuit.
Illusion of Murder Page 1 & Page 2. A photo-comic I did with Rogue that was originally on Marti's site.
2005

The Secret Origin of Woman-Spider. A photo comic I made for the Female Mask Homepage.
Kerry In Print. A listing of my complete biography in magazines and books up until now.

Kerry's 10th Anniversary Online
2004

Behind the Scenes of "Discovered!"
2002

Natori "Photogenic Mask"

Lucifina "Lucy" the Devil Girl
2001

Kerry's White Album

Lycra bodysuit
2000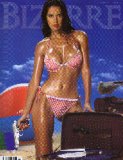 Bizarre Magazine Spread

Katsumi Style Latex Bodysuit.

My New House. A photo shoot in and around my new place.
1999

"Emma Peel."A new outfit to go nightclubbing in.
3rd Anniversary Special. Ghostly Writer made up this Spider-Woman "Becoming" photomontage.

Colorado. I paid a visit to some friends in April.
1998

Christmas Pictures. Season's Greetings from Kerry (and a special treat too!).

Maiden China. Rogue and I have made a new seven minute video drama starring our favorite superheroines.

Kerry's Japan Trip. Pictures from the trip Marti and I made to Japan in November.

Maskon. Photos and news about the Mask convention held in San Francisco in October.

San Diego Comic Con. Rogue and I spent our summer vacation running around in costume. See pictures.

Female Bodysuit. I spent a lot of money. Was it worth it? Judge for yourself. Be sure and check out the new latex version and the torso/mask.


Future Plans. What am I going to do next? Sometimes even I don't know! But here's some ideas.
1997

The Chase. The first dramatic video made by Rogue and me. Starring Maskara and Catwoman.

Catwalk Nightclub. My visit to a "goth" nightclub in Seattle while masked.

Kerry's Kostume Komic. A five page photo comic adventure featuring a femme fatale.

1996

Sew Your Own. Sewing outfits like mine is easy. Here are some starter instructions.

kerryjtv@aol.com) Updated February 22, 2007