Kerry's 10th Anniversary-
October 1995 - October 2005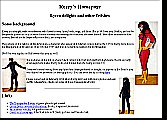 Wow, has it really been 10 years since I did my first webpage? Hard to believe. From such humble beginnings (and you can see here with this replica of my original homepage from 1995 with all of three tiny photos on it) to where I now make my living selling masks full-time. In those days I didn't even have a scanner and had to go to Kinkos and scan each photo -- note my horrible 1970s harvest gold carpeting, thankfully replaced soon afterwards! I'm pretty sure most of the links don't work any longer, but thought I'd leave them on for a historical sense.

Guide to masks: Front row left to right: Michelle, Emeraald, Crystal, Lisa, Alice.
Second row: Lynn, Klassic Kerry, Sheila, Dana
Kerry wearing a Shiela mask/torso and black lycra catsuit.

Every few months (or years) I update the opening photo on the top of my site. You can see the whole collection here:

December 1996
December 1999
February 2000
February 2001
July 2002
November 2004
March 2005
July 2005
September 2005
February 2006

Kerry (kerryjtv@aol.com) March 25, 2006 (c) - 2006 Tiresias Productions