Quick Index
Page One Page Two Page Three Page Four Page Five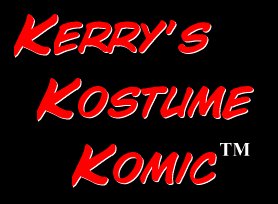 Kerry's Kostume Komic has developed as a natural extension of what I have been doing on the web up until now.



Notes on Page One
For a year and a half I have posted pictures of me wearing my various lycra costumes in a variety of poses. But after awhile this has become a been-there-done-that activity.
I wanted to do something different. Something with a story and characters. And thus came the idea for doing a photo comic.
Each week I
added a new page to the komic, for a total of five.

This isn't meant to be particularly deep, merely an excuse to show off my costumes and experiment with this new medium.

This is all part of my plan to do a long-form graphic novel on the web, featuring characters in photographs.

Such a project would have all original characters, focus more on the story, and be aimed more at general audiences.

Your comments are appreciated.

If you enjoyed this,
The Chase is another illustrated story can you view.
Copyright (c) - 1997 Tiresias Productions. All Rights Reserved.
---
Kerry (kerryjtv@aol.com).
Page Design by Stephen (thanks!)
November 15, 1997