The Natori Mask
November 2002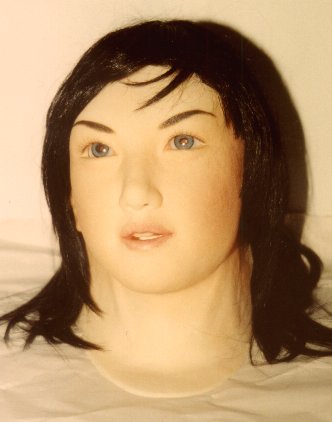 Natori is a Japanese mask maker who has been experimenting with using silicone to make his "Photogenic Masks." These incredible lifelike masks need to be seen to be believed. Natori generously donated one for us to see at Maskon 2002.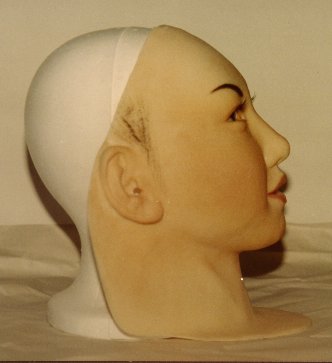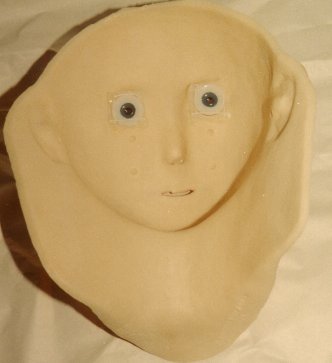 While it may look like a mannequin head, it is in fact sculpted by Natori and scaled to fit men. When I first got received it, it was just a half mask (above left). The eyes are plastic (made by him) and glued in on the inside (above right). The silicone is very thick (7mm) and dense, giving the mask substantial weight (everyone who picked it up said the same thing: "Boy, it's heavy!").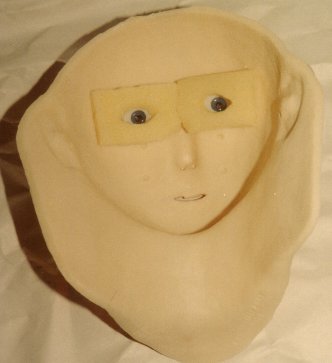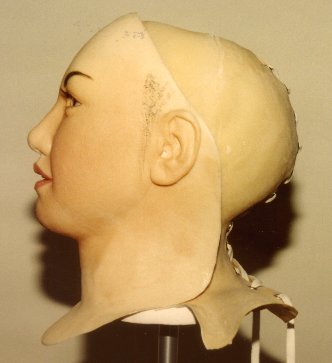 I modified it by adding foam pads on the inside around the eyes (above left), and gluing a latex back (using silicone adhesive) to make it a full-head mask with laces (above right). Okay, so much for the basics of the mask. What does it look like when worn? Keep scrolling...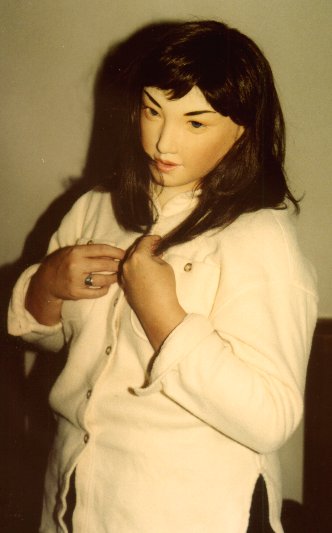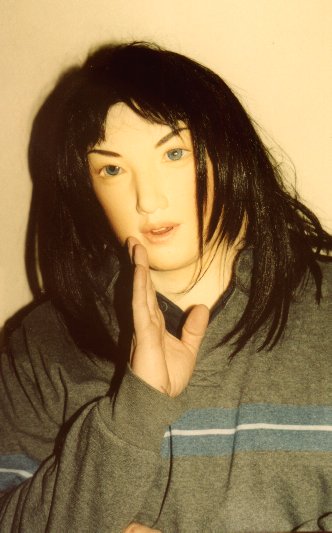 On the left is my friend Rhonda from Denver, on the right is Jovina in drab. The mask fit everyone great, from genetic girls (like Rhonda) to the largest guy with a 17" neck. They all said they could breath and see comfortably in the mask.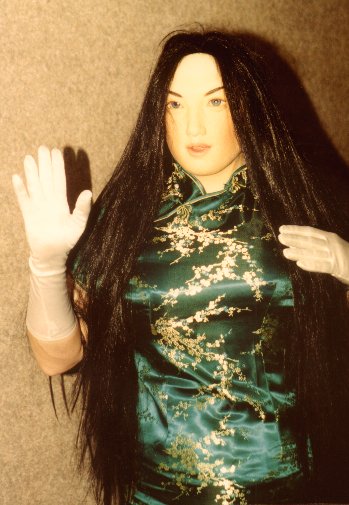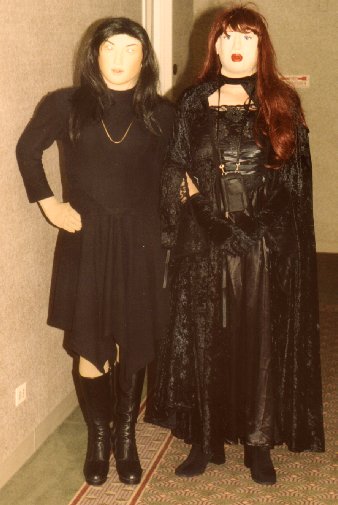 On the left above is Jovina, now wearing a Chinese dress. On the right is myself in the Natori mask with Jovina during one of our outings at Maskon. The eyes look white on the Natori mask because of condensation that occurred when we went from a sub-freezing environment outside to the warm hotel. Check out Jovina's site for more pictures of her in the mask.

This Natori mask was auctioned off in December 2002. I DO NOT SELL THEM. If you are interested in owning a Natori mask you must deal with him directly: natoris2002@yahoo.co.jp . I understand they sell for the equivalent of $900. Good luck!

Written and maintained by Kerry (kerryjtv@aol.com)
December 10, 2002
(c) - 2002 Tiresias Productions