Behind the Scenes of "Discovered!" -
November 2004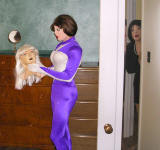 For the 8th Anniversary of Marti's Female Mask Homepage, I created a special image and contributed it to the site. You can make up your own story but I thought it is one (masked) sister snooping on another right after she has taken off her Maskara mask. Since both are played by me, I'm sure it will come as no surprise I used PaintShopPro to combine the two elements together.

Using my wife's digital camera set up on a tripod using the self-timer, I took a series of pictures first in the Maskara costume wearing a Crystal replica mask:












I picked the third image from the right on the bottom row to use as the first half of the shot.
Then I changed outfits to a Sheila mask/torso and a black dress. A series of shots were then taken with the mirrored closet door open as I peered in through the doorway:







And it turned out the first one was best!
And combining the two images together to get the finished result (click for larger image):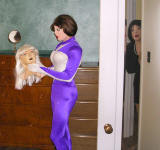 Since I was all dressed up, I did some fun shots too (click on these for larger images):
Wearing the Crystal mask and holding Maskara head:


Showing off the rare Michelle mask:

Some better shots showing off the Sheila mask/torso (worn over Alice eyes):






Written and maintained by Kerry (kerryjtv@aol.com) November 9, 2004 (c) - 2004 Tiresias Productions