The "Crystal" Replica Mask
YouTube video demonstration:
More Photos: All Nyte Doll's Crystal Gallery
You have probably read about Crystal, now you can buy an authorized replica of her mask for a fraction of what it originally cost to produce ($5000!). These are full-head masks with zippers or laces in the back. They come out of the moulds sized at 23 1/2" (60cm) at the forehead and a massive 21" (53cm) at the neck. I can size them up or, more likely, down for you if you give me your me your forehead and neck measurements when you order (just measure yourself with a tape measure or use a piece of string and then measure that). Masks are sold without wigs. The base price is US $250 including shipping, contacts are extra.
Below merely shows one example of makeup. You may choose whatever colors and styles you want.
Some people do not like the lower eyelashes. It's just an option I used for this sample.
| | |
| --- | --- |
| Crystal mask front view | Crystal side view 1 |
| Crystal side view 2 | Back showing laces |
| Worn outside, bald | Another angle, bald |
| Worn with a wig | Lookin' Good! |
NOVEMBER 2004
Examples of other Crystal masks I have made: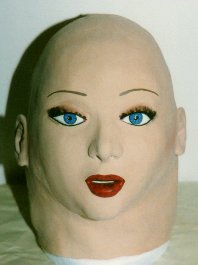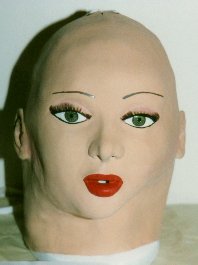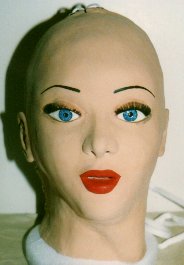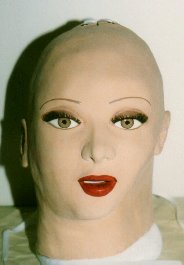 Written and maintained by Kerry (kerryjtv@aol.com)
Updated March 1, 2015
(c) - 2015 Tiresias Productions