Spider-Woman

The picture on the right is of Spider-Woman, a character who appeared in Marvel Comics during the 1970s. I made this during the summer of 1995 using a modified one-piece lycra bodysuit pattern, long black wig, and homemade latex rubber mask. The webs were a sheer material with black strips to create the webbing effect. I first wore it at Dreamcon 10 in Everett, Washington in October 1995. At Dreamcon's Masquerade this won an award for Excellence in Recreation, and a Judges Choice award.
It was also worn as part of the Variety Show at Orycon in Portland, Oregon in November 1995.
Click on these thumbnails for larger views of each picture.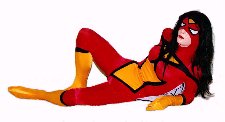 More pictures posing with a Spider-Man fan here
The photo on the left was taken at the 1996 World Science Fiction Convention in Los Angeles. As I was walking around one evening as Spider-Woman I heard a voice call out. It was Marv Wolfman, the man who created the character! He was impressed someone had made a costume of her and even described how he had named her alter ego, Jessica Drew...it was based on Nancy Drew and his daughter Jessica. The photo was taken by my friend Henry (thanks).
Spider-Woman Unmasked
My friend Stephen in the UK has put together a new photo montage of Spider-Woman Unmasked. I think it's brilliant. See for yourself and let me know what you think. I'll pass your comments on to Stephen.
---
Written and maintained by Kerry (KerryJTV@aol.com).
September 10, 2011