One-piece mask, breasts and torso
Soft, stretchy skin-like silicone with foam filled breasts
The Jessica Silicone Mask was designed by a Hollywood makeup artist to fit most male proportions and give a realistic feminine appearance. Each mask comes with open eyeholes, painted lips, eyebrows and nipples, with removable foam breast inserts. I've also created four "How To" videos for customers that will show you how to easily resize a mask, put it on, detail the eyes and fix tears.
Or see our earlier
Susan Silicone Mask
. Now only $500.
NEW!

Emeraald Silicone Mask

The Emeraald mask is now available in stretchy amazing silicone.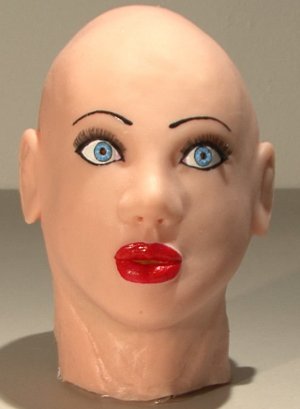 The silicone Emeraald mask is $500 including shipping. The core measures 23 1/2" (60 cm) around the forehead and 15" (38 cm) around the neck. I can size it to fit or the mask will stretch any size face.
You can have it detailed with your choice of skintone, and colors of eyes, eyeliner, and eyebrows.
Comes with a zipper in back for easy use.
See a demonstration of the mask on the video page
.